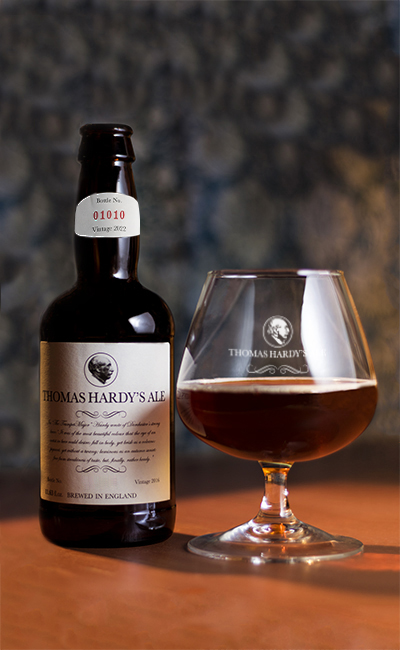 Vintage 2022
Amber coloured Barley Wine laden with bronze glints.
On the nose, straight away the bouquet has impact, intensity and complexity with notes of both candied and alcohol-soaked fruit, dried figs, fresh tobacco and chocolate, while a caramel sensation is perceived but remains in the background.
In the mouth, the initial sensation is of incredible density and softness, a silky warmth accompanying memories of bitter orange marmalade, dried fruit and chestnut honey. The finale provides a refreshing, slightly sharp hint that adds harmony and balance.
It can also be stored in the wine cellar to taste its evolution over time.

ABV: 13%
Style: Barley Wine
The 2015 vintage I tasted was superb: smoky, fruity (blackcurrants), with burnt grain and peppery hops.
Roger Protz, "The Return of the Native", 2016

"It was of the most beautiful colour that the eye of an artist in beer could desire; full in body, yet brisk as a volcano; piquant, yet without a twang; luminous as an autumn sunset; free from streakiness of taste, but, finally, rather heady."
Thomas Hardy, The Trumpet Major