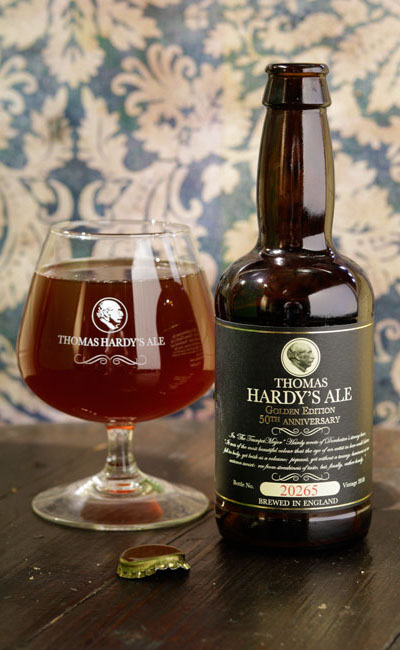 50th Anniversary
Amber coloured Barley Wine laden with bronze glints.
On the nose, straight away the bouquet has impact, intensity and complexity with notes of both candied and alcohol-soaked fruit, dried figs, fresh tobacco and chocolate, while a caramel sensation is perceived but remains in the background.
In the mouth, the initial sensation is of incredible density and softness, a silky warmth accompanying memories of bitter orange marmalade, dried fruit and chestnut honey. The finale provides a refreshing, slightly sharp hint that adds harmony and balance.
The vintage 2018 Golden Edition celebrates the 50th anniversary of the Thomas Hardy's Ale, first produced in 1968.
THOMAS HARDY'S ALE
SPECIAL EDITIONS
1968
Thomas Hardy's Ale
The very first vintage of Thomas Hardy's Ale
1983
Royal Thomas Hardy's Ale
To celebrate the visit of the Duke of Kent
1987
150th Anniversary Thomas Hardy's Ale
To mark 150 years of brewing for the Eldridge family
1993
Thomas Hardy's Ale Silver Anniversary
To commemorate 25 years since the first vintage
2008
Thomas Hardy's Ale 40 Years
The last vintage produced by O'Hanlon Brewery
2014
Thomas Hardy's Ale Preview Edition
Not for sale, two test-batches in 33 cl and 75 cl bottles
2018
Thomas Hardy's Ale Golden Anniversary
This special bottle celebrates 50 years since the first vintage

"It was of the most beautiful colour that the eye of an artist in beer could desire; full in body, yet brisk as a volcano; piquant, yet without a twang; luminous as an autumn sunset; free from streakiness of taste, but, finally, rather heady."
Thomas Hardy, The Trumpet Major